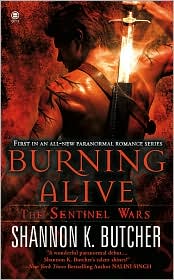 "They are the Sentinels…
Three races descended from ancient guardians of mankind, each possessing unique abilities in their battle to protect humanity against their eternal foes-the Synestryn. Now, one warrior must fight his own desire if he is to discover the power that lies within his one true love…
Helen Day is haunted by visions of herself surrounded by flames, as a dark-haired man watches her burn. So when she sees the man of her nightmares staring at her from across a diner, she attempts to flee-but instead ends up in the man's arms. There, she awakens a force more powerful and enticing than she could ever imagine. For the man is actually Theronai warrior Drake, whose own pain is driven away by Helen's presence.
Together, they may become more than lovers-they may become a weapon of light that could tip the balance of the war and save Drake's people…"
 *****
The storyline is exciting. The romantic relationship between Helen and Drake was intense!!! There is just the right amount of romance, but it doesn't overpower the plot. I wish that Helen hadn't been such a wussy female in this book. I liked the book overall. It started off slow but picked up.
Heat Factor: Sizzling