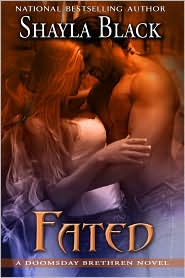 "Ronan Wolvesey is an eternal bachelor, always on the prowl for a woman to enjoy…then forget. But Kari Keswick is utterly unforgettable. He can't stop his growing obsession for the beautiful pub owner. But his family was cursed a thousand years ago, and if he gives into his urge to make her his mate, the curse could cost Kari her life.
Though Kari has pined for Ronan since the moment he walked in her door, she has refused to be another notch on his well-marked bedpost. But Ronan's seductive prowess finally proves too strong, and Kari surrenders to him, knowing that he will leave her. After a stunning night like no other, Ronan realizes that he wants her forever and must face his greatest challenge: give Kari up for her own good or believe that love truly can conquer all."
This was a quick read and a free ibook. It wasn't the best book by any means but it kept my attention. The story centers around Ronan and Kari. She is a pub owner and he is one of the brethren. He believes he is doomed and cannot take Kari as a mate because the curse that was placed on his bloodline would affect her and kill her. So he tries to fight it and get her away from him which causes sexual tension. I would say it is pretty predictable but it has good points. Not bad for a free book.
Heat Factor: Sizzling