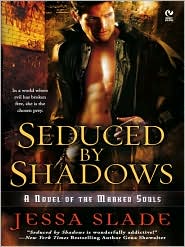 "When Sera Littlejohn meets a violet-eyed stranger, he reveals a supernatural battle veiled in the shadows, and Sera is tempted to the edge of madness by a dangerous desire. Ferris Archer takes Sera under his wing, now that she is a talyan-possessed by a repentant demon with hellish powers. Archer's league of warriors have never fought beside a female before, and never in all his centuries has Archer found a woman who captivates him like Sera.
With the balance shifting between good and evil, passion and possession, Sera and Archer must defy the darkness and dare to embrace a love that will mark them forever."
I find it refreshing when I can pick up a book and step into a world I cannot compare to another.  The world of demon possessed warriors is very imaginative and intriguing.
Sera is a strong female character and I thoroughly enjoyed reading about her transition.  I would say the downfall for me lay within in the male character, Archer.  He was very weak in my eyes and at times I found him frustrating…which is not the norm for me being that I most often prefer the male characters over the females.
All in all it was a good read and I would not mind continuing to the second book in the series.
Heat Factor: Smoking