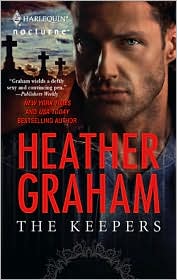 "At the core of New Orleans lie the otherworldly vampires and shape-shifters that hide in plain sight among mankind. As one of the Keepers, an elite group possessing superior skill and strength, Fiona MacDonald's duty is to maintain peace in a place where one vampire's bite could ignite war. When Detective Jagger DeFarge, a vampire, is called in at the discovery of a body drained of blood, both the detective and Fiona must join uneasy forces.
Jagger will stop at nothing to find the murderer— including working with the sensual and suspicious Fiona. As more die, it becomes clear that this isn't the work of an ordinary vampire. No one is safe. So when the killer's attention turns to Fiona, will Jagger risk destroying his own species to protect the woman he so passionately desires?
The Keepers: Three extraordinary sisters, balancing the duties of their birthrights and the yearnings of their hearts…"
As keepers of the underworld in New Orleans, Mr. and Mrs. MacDonald maintained peace among the races. When a war broke out, they lost their lives leaving their three tall blond daughters, Fiona, Shauna, and Caitlin, to carry on their work. Fiona is the keeper for the vampires, Shauna is the keeper for the werewolves, and Caitlin is the keeper for the shapeshifters. When young blond girls bodies start showing up drained of blood and left in cemeteries around New Orleans, the keepers job because more difficult. The vampires are blaming the shapeshifters, and the shapeshifters are blaming the vampires, and the werewolves are blaming both. Peace among race is in jeopardy. Jagger DeFarge, a vampire and New Orleans police officer, is assigned lead detective on the case. As keeper of the vampires, Fiona starts up her own invistagation. Fiona and Jagger start to fall in love. Fiona is a keeper and Jagger is a vampire so many fear this will cause a war as well. In the end, Fiona is the murders target. Good book. Well written. Not the best I have ever read but a short a quick read and it was worth it.
Heat Factor: Hot