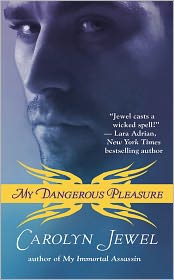 "TEMPT THE DARKNESS
Strong-willed and independent, Paisley Nichols is used to taking care of herself. But when an insane mage begins tracking her every move and threatening her at every turn, she has no choice but to put her life in the hands of a demon.
RISK THE PASSION
Burned by betrayal, demon assassin Iskander won't get too close to anyone. He spends his days serving his warlord and his nights indulging in carnal pleasures . . . and that's exactly how he likes it. But when a mage wages a wrenching psychic assault on his beautiful tenant Paisley, Iskander must defend her. Under his protection, she will be drawn irresistibly into his life and learn about her own mysterious powers. And not a moment too soon. The mage haunting her isn't acting alone-and he won't rest until he destroys both Paisley and Iskander."
*****
Paisly Nichols is thrust into a world of mages and demon assassins when a particularly insane mage finds favor in her. Little does she know, the only person that can help is her landlord, Iskander, who happens to be a demon himself.
I found My Dangerous Pleasure by Carolyn Jewel, the fourth book in her My Immortal Series, to be a real page turner. The world she has created is both intriguing and fresh. An escape of the overwhelming supply of vampires and shifters that flood the paranormal romance genre.
Paisly is a strong female lead you find yourself rooting for, who only gains in momentum and doesn't falter…which in my opinion is not so easy to come by. Iskander is sexy and mysterious, a real knight in shining armor who sweeps you off your feet and keeps running. The two come together at a good pace, adding to the nice flow of the book. One scene in particular will definitely leave you breathless. All in all a great read and worth picking up if you are looking for something new and different.
I will certainly be keeping an eye out for the next installment in this great series.
Heat Factor: Burning