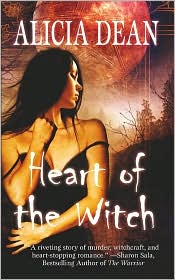 "A beautiful young witch must choose between maintaining the anonymity of her coven and trusting the detective who would bring a heartless serial killer to justice."
*****
In Oklahoma City, the Tin Man abducts Rayvn Skylar.His plan is to rape, torture and kill her. What he didn't plan for was that Rayvn is a witch. Rayvn didn't show the fear he was hoping for, but instead she counter attacked. Rayvn used her powers to set his crotch ablaze. Though he survived, his "manhood" will not work anymore. He is outraged that his victim left him maimed and escaped and vows to finish what he started.
Nick Lassiter is a private investigator that has been hired by one of the victims husbands. With a run of bad luck in life, Nick has turned to alcohol to drown the pain. He is working on the case of the Tin Man but not with much hope of solving it. That is until there is a survivor. Nick plans to use Rayvn to catch the Tin Man. He gets a little more then he anticipated. With death occurring all around them, Nick and Rayvn start to help each other heal and feel a connection. Kayne wants part of that connection. Kayne, Rayvn's ex boyfriend, has went to the dark side and is determined to bring Rayvn with him. Rayvn is torn between her love for Nick and devotion to her coven.
The male character was hot in his own way. He wasn't the drop dead gorgeous but he had something about him. The connection between the two leads grew as the book went on but I really liked that the female stayed strong throughout the book. The book was full of twists and turns that you weren't expecting and made you want to keep reading to find out more.
There could have been more graphic sex scenes. It tended to gloss over the details. The storyline and plot did flow really well and it was full of suspense.
Heat Factor: Smoking