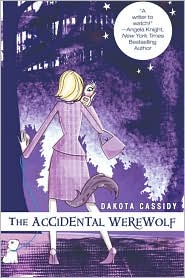 "When Marty Andrews gets bitten by a mutt, the hair on her legs starts growing at an alarming rate and her mood swings put her dream job as a cosmetic sales rep in serious jeopardy. Then a drool-worthy man shows up at her door claiming that he accidentally bit Marty. And since he's a werewolf, that means she is now, too…"
 *****
Okay now this one was different for me. For one it was over 1,000 pages in ebook form. That took some time to get through. It wasn't the typical paranormal romance book. At first I wasn't going to give this one a very good review. Then as I got further into it I changed my way of thinking . So I'll base my review off that.
If you are looking for a breed series, dark hunter series, the serious and intense books. This one isn't for you. This is a funny read. I laughed all the way through it.
Marty is a quirky make-up saleswoman and honestly she and I didn't really hit it off. She grated on my nerves but she was hilarious.  Keegan is a hottie and the intense character that you're use to. Watching the two interact was entertaining. She pushes his buttons and drives him insane.  It had a really good plot and it did keep the suspense going all the while you are laughing through it.  It also had some really good scenes with some heat to it.
So while it wasn't the book I was expecting it was entertaining. I can't give it the bites of the others but if there was a laugh scale it would get five laughs.
Heat Factor: Smoking