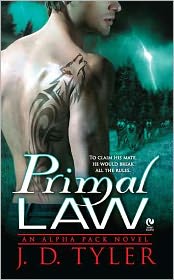 "Meet the Alpha Pack, a top-secret military team of wolf-shifters fighting the most dangerous predators in the world, human and nonhuman. After a massacre leaves Jaxon Law crippled, he must relearn how to fight-and battle the anger and guilt threatening to overwhelm him. But when Jax rescues a beautiful woman who awakens his primal instincts, he is unprepared for the dangers that lie ahead. Soon he must decide if the deep connection he feels with Kira is worth defying the ultimate shifter law…"
Jaxon Law had no idea that when he lead his team on a mission in Afghanistan, that he and his men would be changed forever. Kira Locke was not prepared for her attempt to uncover the top secret business of her employer, NewLife, to go south as bad as it did and in turn be rescued by a team of military wolf shifters who would make any woman's heart stop. One grey wolf in particular.
Primal Law is the first book in the new series, Alpha Pack by JD Tyler. The world she builds around her lead characters is a bit chaotic and is almost too much with all the paranormal beings running amuck.
However, her lead male, Jaxon Law, a grey wolf shifter with a huge load of guilt weighing heavy on his heart from a previously botched mission, along with his team of hot male shifters, will leave you panting for more. Jax is sex on a stick and he doesn't disappoint. The sex is good and there is plenty of it.
Kira, the female lead, on the other hand left a little to be desired. There were times in Primal Law where I wanted to give Kira a high five and other times when I wanted to slap her on the back of her head. I guess one can say such is true in real life, right?
Regardless, a chaotic backdrop and a female lead that falls a bit short do not at all hinder JD Tyler's ability to tell a good story. It was definitely a page turner, right up to the very last page where the author delivers a ballsy ending in my opinion. The romance definitely could have used a little more umph, but all in all it was a good first book and I am inclined to make an effort to pick up the second book in the series, scheduled to come out in April, and see what JD has in store for her hot Alpha Pack.
Heat Factor: Burning