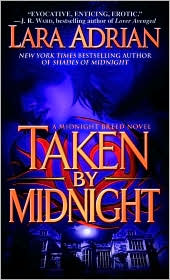 "In the frozen Alaskan wilderness, former state trooper Jenna Darrow survives an unspeakable breach of body and soul. But with her narrow escape comes an even greater challenge. For strange changes are taking place within her, as she struggles to understand—and control—a new hunger. To do so, she will seek shelter in the Boston compound of the Order, an ancient race of vampire warriors whose very existence is shrouded in mystery. Perhaps the most mysterious of them all is Brock, a brooding, dark-eyed alpha male whose hands hold the power to comfort, heal . . . and arouse. As she recovers under Brock's care, Jenna finds herself drawn to the Order's mission: to stop a ruthless enemy and its army of assassins from subjecting Earth to a reign of terror. Yet in spite of their resolve, a purely physical relationship without strings soon binds Brock and Jenna together with a desire fiercer than life and stronger than death itself—until a secret from Brock's past and Jenna's own mortality challenges their forbidden love to the ultimate trial by fire."
I'll admit, I was somewhat reluctant to read Lara Adrian's Taken by Midnight when it first released. It was nothing against Lara really; it had more to do with the outbreak of disappointing releases by some of my most loved authors. I didn't want to add another to that unfortunately swollen list.
However, after attending a recent author's conference where Lara was present, and getting a chance to meet her up close and personal, I felt compelled to give the book a chance.
Much to my delight, Taken by Midnight was excellent! In fact, I don't think I have enjoyed a book as much as I enjoyed this one in a surprisingly long time.
From the first page you immediately feel the connection between the two main characters, Brock and Jenna. Jenna finally wakes up from a deep sleep after her savage capture in Alaska, that took place in Shades of Midnight, the book preceding this one. Brock remains protectively by her side for reasons far deeper than just the responsibility entrusted to him by Lucan, leader of the Order. Both are inwardly tormented by demons from their pasts. Throughout the book, the romance between these two well developed characters moves at a satisfying pace and sizzles off the pages when it finally comes to a head.
Brock is honorable and sexy. Jenna is strong and determined. Together they are scorching and unstoppable.
The book has it all…romance, suspense, passion and pain.
Much kudos to Lara for writing a brilliant story when other heavy hitters in the genre seem to have gone complacent!
In closing, one of my favorite exchanges in the book…
"Are you asking me to move in with you, Jenna?"
She shivered under the moist warmth of his lips and the erotic abrasion of his fangs against her tender skin. "Yeah, I guess I am. I mean this is your bed, after all. Everything in here is yours."
"What about you?" He gathered her hair and swept it aside, pressing his mouth to her bare nape. "Are you mine, too?"
*Swoon*
NOW for the fun part…The Midnight Breed Giveaway!  While at the author's conference I was fortunate enough to get a copy of Rio's book, Midnight Rising signed by Lara Adrian herself, along with a neat little Breed pouch that contains a Midnight Breed pen and cup cooler. All you have to do is leave a comment here on this review and be a follower of Darhk Portal through Google Friend Connect, join box located on the left sidebar of this page, to be entered.
The winner will be chosen August 29th through the WordPress plugin, Pick Giveaway Winner. The plugin will choose the winner at random from the comments on this post. Its that easy!
Good luck!
Heat Factor: Burning
Reviewed by: Rina