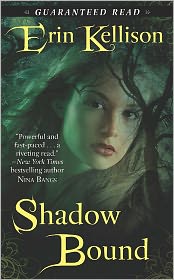 "Adam Thorne founded the Segue Institute to study and destroy his monster of a brother, but the key to its success is held in the pale, slender hand of a woman on the run. There is something hauntingly different about Talia O'Brien, her unknowing sensuality, her uncanny way of slipping into Shadow. Twilight is the place between life and what comes after- a dark forest of fantasy, filled with beauty, peril, mystery. And Talia is about to open the door."
 *****
This one worried me. It was one of the books I got from the Author's After Dark conference. I don't remember if it was with the goodies when we registered or I acquired it sometime during the convention. I hadn't ever heard of the author before this and I get set in my ways so I wasn't sure how this book would be. The other worry was it was in actual book form(remember those)  I'm an iBook person. I always have my phone with me so I can read at random whenever. I have a tendency to put things down and forget about them. I was worried I would forget about it and not get it read.
Boy was I wrong. This is one amazing book. It takes you into another paranormal world. Adam has spent his life trying to find an end to his brother who turned Wraith ( whom cannot be killed but kill humans by sucking their souls) He then meets Talia who could hold the secret to his life's work. She has a dark secret that she doesn't want to face or admit. It really takes you deep into the subject of life, death, and what happens in between. I love a book that makes you think and this one did it.   I cannot say enough about this book. It grabbed my attention and kept it. I was drawn to the characters and the twist and turns along the way kept me turning the pages. I will say the very end was a huge surprise that will have me buying the next one and I read where there are even more coming from this series.  I would have liked to seen a little more heat between the two characters but I still loved them to death and can't wait to get my hands on the next one.
I say it's a must read!
Heat Factor Sizzling