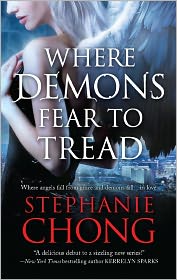 "Fledging guardian angel and yoga teacher Serena St. Clair dares enter Devil's Paradise nightclub on a mission—to retrieve the wayward Hollywood "It Boy" she's assigned to protect. But she's ambushed by the club's owner, arch demon Julian Ascher. The most powerful demonic entity in Los Angeles, Julian is handsome as sin, a master of temptation who loves nothing more than corrupting pleasure–seeking humans. He won't release the lost soul Serena is supposed to guard. Unless she accepts his dangerous wager… After the disastrous way his human life ended, Julian vowed that no woman would get the better of him again. Yet this sexy–sweet angel, smelling of fresh ocean air and happiness, triggers centuries–old feelings. Now, their high–stakes game of seduction, where angels fall from grace and where demons fear to tread, will lead them either to an eternity in hell.or a deliciously hot heaven."
*****
Okay, I think I'm warped or have hit a dry spell because the heat factor just hasn't been in the recent books I've reviewed. This one was close, really, really close but it just missed the mark. The book is wonderfully written and I absolutely loved the storyline.
Julian the arch-demon was hotness and could corrupt me anytime but as usual I had some issues with Serena the Angel. Yeah I know.. Dee it's an angel how bad-ass can she be?  She didn't have to be so predictable. She just kind of wimped out for me. Now Luciana, another demon was kick ass but she was a naughty demon and one I don't think you were suppose to like. So maybe I'm wired wrong. But I just wanted to shake Serena a couple times and get her to wake up a bit.
With all that said it was a REALLY good book. It was classic good vs. evil and how much good is really in pure evil, just hidden? I would suggest picking it up. And it didn't completely disappoint on the heat factor but I could have used a little more. I will say if there is a second book which I think is a  possibility I will pick it up and read it.
Heat Factor: Sizzling