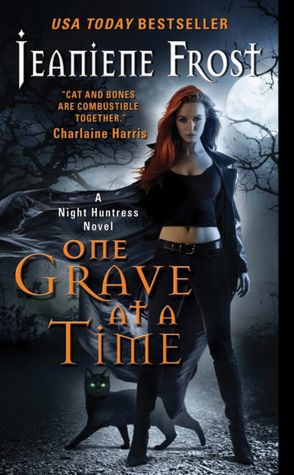 How do you send a killer to the grave when he's already dead?
Having narrowly averted an (under)world war, Cat Crawfield wants nothing more than a little downtime with her vampire husband, Bones. Unfortunately, her gift from New Orleans' voodoo queen just keeps on giving–leading to a personal favor that sends them into battle once again, this time against a villainous spirit.
Centuries ago, Heinrich Kramer was a witch hunter. Now, every All Hallows Eve, he takes physical form to torture innocent women before burning them alive. This year, however, a determined Cat and Bones must risk all to send him back to the other side of eternity–forever. But one wrong step and they'll be digging their own graves.
*****
This is the latest book in Jeaniene Frost's Night Huntress series. I've watched the relationship between Cat & Bones develop over the series and what I liked best about this latest offering is how they've matured and evolved as a couple, in particular Cat's growth. We finally see her trust Bones, his love for her, and his decision making. In the past, she has acted recklessly, thinking that she was doing what was best for Bones, but ultimately she just mucked things up. It was refreshing to see her think rationally and trust in his plans. It rang true.
The main story wasn't my favorite of the series, but, like the previous books, it always has a fun layer of historical fact. Fabian, their "adopted" ghost, brings a ghostly female friend to them with a plea for help. Elizabeth was burned as a witch by witch hunter Heinrich Kramer and she wants their help to end his reign of terror: it seems each Halloween he is able to take physical form and he tortures and burns three innocent women. Kramer was a real person and was a German Inquisitor in the 1400s. (Aside: the previous books incorporate such well-known historical figures as Cleopatra and Joan of Arc in very clever ways. It's one of my favorite things about this series.) Each year he gets stronger and if Cat and Bones don't find a way to stop him, he may be able to hold corporeal form permanently.
The side plot of a new head honcho, Jason Madigan, at Cat's former place of employment, a super secret government agency that battles supernaturals is intriguing. I instantly disliked Madigan, which means Frost did an excellent job portraying him as a typical government employee who does not generally have the bigger picture in mind. In fact, his outlook on supernaturals and their existence is myopic. Madigan seems to be out to get Cat. This could get interesting.
As always, the supporting cast of characters works seamlessly within the story. Denise's latest shift to animal form was a blast to watch. Ian is, well, Ian: inappropriate and amusing all rolled into one. Vlad was sorely missed.
My biggest complaint? Not enough sex. What? I need to see Bones in action at least three times in each book. He's perfection. His character is always spot on in each book. Overall a fantastic series and a pretty good Jeaniene Frost book is still better than a lot of what else is on the shelves.