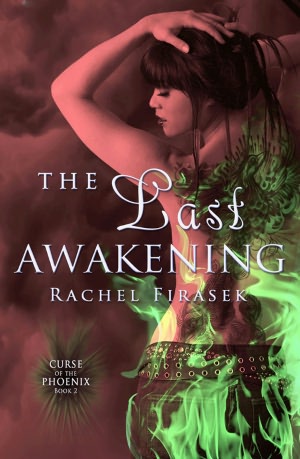 For three hundred years, Arabella's life has been one meaningless death after another. In a cruel twist of fate, Osiris gifts the phoenix her mortality and long-gone voodoo magic with a warning that she must save her next soul within a week without using magic, or she'll lose her power forever.
Ex-soldier Greyson Meadows desperately wants to be freed from the nightmares and guilt that haunt him. Confronted by a waif of a woman who forces him to face the truth about his past, he runs fast and hard, fighting the need to prove himself worthy despite his perceived failures.
When Ari becomes the target of her own magical blunder, the weak will find strength and the strong will fall. One will have to give up everything so the other can have peace, but will love's magic withstand the loss?
*****
This is Book Two of Ms. Firasek's Curse of the Phoenix Series and gives us the story of Arabella….
The beginning of this story puts Ari in touch with Grey, an ex-soldier and best friend of Turner, our sexy Texan from Book One. Ari and Grey are smack bam in the middle of a horrific scene that will surely rip Grey apart at the emotional seams. It's a scene that just reading left me in tears and left me hurting for Grey. It left Ari in a desperate need to return to his side after she has realized that HE was the soul she was assigned to save and had just left…alone and in an emotional spiral headed for disaster.
She is given a week to save him from his own personal hell. You see, Ari has lived her own personal hell for hundreds of years after thinking she killed her entire village with her now dormant voodoo powers.
Grey is more than confused when Ari returns and is even more confused by his need to be near her. Of course, that doesn't stop him from trying to push her away at every turn. Who wants to listen to the ramblings of a damaged man anyway? Only he can't deny that there is something between them and that Ari really can understand what he has been through and really does relate to how he hurts deep inside.
Along the way, we learn of a secret that Osiris has hidden from Ari about her true lineage….a lineage that ends up putting her in danger of losing her life, for good. Luckily, she has gained the love of one hell of a fighter along the way…..Grey. Now that he's found her, and let her in, there's no way he'll let anything from this world, or beyond, take her from him. Oh, and a little help from a sun-loving God never hurts
I don't want to give away more of the juicy details but I will say this: Ms. Firasek has done it again. This was an amazing story with twists I didn't see coming. I felt all of the emotions Grey had throughout this book. Ari and Grey came together out of tragedy and learned to love and live again….a true gift.
I'm so looking forward to Osiris's story, the final book in this series…….look for it February 7, 2012!
Heat Factor: Sizzling