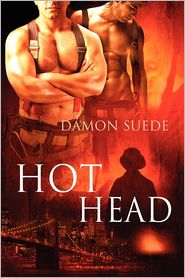 Where there's smoke, there's fire…
Since 9/11, Brooklyn firefighter Griff Muir has wrestled with impossible feelings for his best friend and partner at Ladder 181, Dante Anastagio. Unfortunately, Dante is strictly a ladies' man, and the FDNY isn't exactly gay-friendly. For ten years, Griff has hidden his heart in a half-life of public heroics and private anguish.
Griff's caution and Dante's cockiness make them an unbeatable team. To protect his buddy, there's nothing Griff wouldn't do… until a nearly bankrupt Dante proposes the worst possible solution: HotHead.com, a gay porn website where uniformed hunks get down and dirty. And Dante wants them to appear there-together. Griff may have to guard his heart and live out his darkest fantasies on camera. Can he rescue the man he loves without wrecking their careers, their families, or their friendship?
*****
I had remembered hearing all the buzz surrounding the male male romance Hot Head by Damon Suede and found myself curious. It had been up for best romance for the 2011 Goodreads Choice Awards with the likes of J.R. Ward, Lara Adrian and Larissa Ione. It ended up finishing in third place behind Lover Unleashed and Fifty Shades of Grey. Upon learning that Damon Suede would be an attending author at the Authors After Dark conference in New Orleans this year, the decision had been made. I had to read this book even though it was not my usual "go to" genre of paranormal romance.
At the start of the story I will admit, I found myself uncomfortable but not for the reasons one would suspect. The two male leads are firemen from Brooklyn and had experienced the tragedy of 9/11 first hand. Having lived within an hour drive of New York City my whole life, I too had been affected by the nightmare of that day. The beginning of the story hit home and left me with an all too realistic somber feel, which is not something I usually like with my romance. However, I pressed on and I am so glad I did.
The heat between Griffin Muir, a pale skinned redhead with the athletic frame of a pro football player and Dante Anastagio, the Italian Casanova with a body made for sin, is electric! Griffin is enamored with Dante who has been his best friend since childhood. He never had feelings for a man before and found himself ultimately conflicted. Should he tell his best friend how he really feels about him or for the sake of their friendship suck it up and move on? Dante is charismatic and has a habit of sacrificing his safety on the job with Griffin being his guardian angel on more than one occasion. When Dante learns that he may lose his Brooklyn brownstone, the one place he held dear to his heart, unable to keep up with the payments on a fireman's salary, he turns to Alek the owner of the gay-porn site Hothead.com. Dante's wheels start to spin after one shooting, realizing he could make a hell of a lot more of the money he needs if his act was in fact a duo and not just a solo. Having no one else he trusted more than his best friend, Dante looks to Griffin once again to save him. At this point the book ignites from hot to scorching. I could not put it down and wondered if it came equipped with a fire hose to cool off. The characters Damon Suede brings to life are real, funny and absolutely lovable. It was a romance that ensnares the reader and has them biting their proverbial nails, speculating what will happen when Dante finally finds out the truth. If you are one of the many J.R. Ward fans waiting to read the highly anticipated love story between Qhuinn and Blay, then I suggest picking up this book to hold you over. You will not be disappointed. As I stated earlier, ironically Hot Head's two leads are a redhead and dark brunette.
Dante leaned over. "Hey, G. You gotta talk as much as possible. Okay? Dirty talk gives us a bump."

"Uh, yeah. Sure. What do you want me to…?"

"Whatever feels good, tell me. Real nasty. Tell me how to suck it. Talk to me."

Griff nodded. "I'll try."

"Dirty as you want, man. Don't be gentle; don't be nice. I can take it. It's all good, yeah?"

Even in his helmet and worn bunker pants, Dante looked like a prince: the perfect profile, the soft waves of hair. Griff swallowed. "You got it."

Dante stepped closer, so they were almost face to face in their pants and suspenders. "I don't know how far I can go, but if you make me, I bet I can go further. And that's more cash. I want to, okay? Far as you can push me."
Heat Factor: On Fire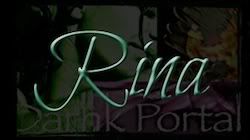 Darhk Portal is giving away an eBook version of Hot Head by Damon Suede to one lucky follower. Just comment on this review and the winner will be picked at random. The winner will be announced tomorrow, April 7th on our Facebook Page and will have 72 hours to respond before an alternate will be chosen. Thank you and Good Luck!
***This is part of our Kindle Countdown to AAD, so comment on this post to also earn an entry into the Grand Prize Drawing [Full Contest Details Here]***