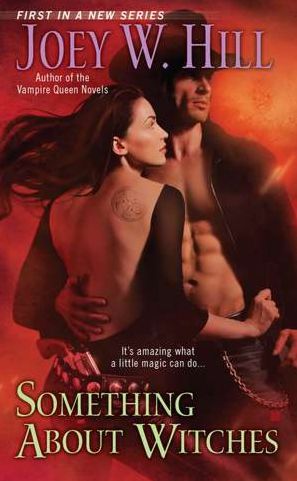 Joey W. Hill thrills in a dazzling new spellbinder of modern-day witchcraft, ancient evil, and the magical tricks men and women play in the name of love . . .
Ruby Night Divine is a gun-shop owner. She's also a witch who knows magic can fail. She's experienced it firsthand, with full-blown tragic consequences. Smith & Wesson is a whole hell of a lot more reliable, and nothing's as cathartic as the ability to put a few holes in the things that piss you off. Like Derek Stormwind.
A powerful sorcerer, Derek is determined to get to the bottom of why Ruby pushed him away and ran three years before. He also needs her help.  A coven needs training to fight a demon and his minions. While Ruby is willing to do it, she's sure it's just a ruse to get back in her heart—and her bed. The thing is, that's where she wants him. Unfortunately, her bed's already made, she's this close to losing her soul, and she fears nothing can save her. Not Derek. Not even Smith & Wesson.
*****
Derek and Ruby have had a strong connection since Ruby was a young child. Ruby's mother was threatened by the power that Ruby held within herself. As a result, her mother told her that she didn't have any magic powers and was best if she taught others how to use theirs. She told her that if she ever tried to use her magic that it would result in tragic consequences. Derek showed interest and concern for Ruby when there wasn't anyone else for her to turn to.
As Ruby grew up, she fell for Derek. Things started to change for Ruby. Ruby discovered the magic that her mothered was intimated by. However, Derek was off working in another land. Ruby had no one to turn to for guidance. By the time Derek returned, Ruby was already walking the thin line between light and dark magic. The more dark magic she used, the more she lost of her soul. Derek feared that he was going to lose Ruby forever.
Catching her face in both hands, he made her look at him. "look at me while I send you over, so I see you feel what it means, the two of us joined like this."
He slid all the way in then, deep and filling her. She gasped, tears leaking out over his fingers. "There you are, baby" , he rumbled softly. "Keep feeling it. This is part of the cleansing, unique to you and me."
He withdrew, then slid back in. The rest of his body stayed still and firm upon her, giving her his heat and life, his relentless presence, as he flexed his hips and thighs to slowly push in, draw out. Over and over, as he rubbed tissues that caught fire, that had her panting and her hands clawing at his sides, his hips and buttocks, wanting him to go faster, shove harder.
"This the way its going to be, girl. My pace, my way. You just take it, go along for the ride. I want to see your eyes all wide and glazed. You open up to me; give yourself to me. I could break open the lock on your soul any damn time I want to do it, but I'll wait because I love you too much to be smart about it."
The tears increased, but so did the arousal. He wouldn't let her run from him, from the explosive cliff edge to which he was taking her, one long, dragging stroke at a time.
"can't…"
"Yeah you can. You'll come for me, scream for me. You'll do it now."
Derek and Ruby's relationship is pretty hot and steamy! They have a deep emotional connection that is nothing compared to the physical connection. The hot," got to have it now sex" they share is….Well, left me wishing for my own Derek Stormwind!
This is the first mass market book for Joey W Hill. She usually stays more in the BDSM Erotic Genre. This book is still hot! Multiple scenes are hot hot hot! This is the first book in her newest Arcane Shot Trilogy.
While I really enjoyed the story line and the connection of the characters, I did not enjoy the overall book. I felt that the characters were well described and all worked well off of each other. However, I felt like there was too much useless information in some areas and not enough information in others. In parts of the books, it felt like the storyline was lost due to all of the details of the sex scenes. I have no problem with the sex scenes…bring them on…but I like to still feel like I am reading the same book! I had a hard to time picking up the book in the beginning. By about midpoint, the storyline had grabbed me and then I had to know what happened to the characters. This is the first book of the trilogy. I am really torn as to whether or not I will try the next book. I really want to know what happens with the story line. We will see!
Heat Factor: On Fire


***This is part of our Kindle Countdown to AAD, so comment on this post an earn an entry into the Grand Prize Drawing [Full Contest Details Here]***
Thread will close April 30th.