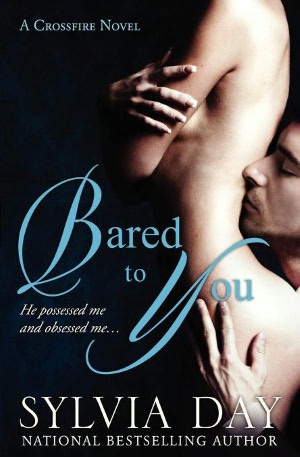 "I need you." His mouth was sliding over my cheek and down my throat. "I need to be inside you…"
"No. My God. Not here." But my protest sounded weak even to my own ears. I wanted him anywhere, anytime, any way…
"It has to be here," he muttered, dropping to his knees. "It has to be now."
He chafed my skin ripping the lace of my panties away; then he shoved my skirt to my waist and licked my cleft, his tongue parting my folds to stroke over my throbbing clit.
I gasped and tried to recoil, but there was nowhere to go. Not with the door at my back and a grimly determined Gideon in front, one hand keeping me pinned while the other lifted my left leg over his shoulder, opening me up to his ardent mouth.
My head thudded against the glass, heat pulsing through my blood from the point where his tongue was driving me mad. My leg flexed against his back, urging him closer, my hands cupping his head to hold him still as I rocked into him. Feeling the rough satin strands of his hair against my sensitive inner thighs was its own provocation, heightening my awareness of everything around me…
We were in Gideon's parents' house, in the midst of a party attended by dozens of famous people, and he was on his knees, growling his hunger as he licked and sucked at my slick, aching cleft. He knew just how to get me, knew what I liked and needed. He had an understanding of my nature that went above and beyond his incredible oral skills. The combination was devastating and addicting.
…A movement on the far side of the room caught my eye and I froze, my gaze locking with… She stood just inside of the door, halted midstride, staring wide-eyed and opened-mouth at the back of Gideon's moving head.
But he was either oblivious or too impassioned to care. His lips circled my clit and his cheeks hallowed. Sucking rhythmically, he massaged the hypersensitive knot with the tip of his tongue.
Everything tightened viciously, then released in a fiery burst of pleasure.
The orgasm poured through me in a scorching wave. I cried out, pumping my hips mindlessly into his mouth, lost to the primal connection between us. Gideon held me up as my knees weakened, tonguing my quivering flesh until the last tremor faded.
When I opened my eyes again, our audience of one had fled.
*****GIVEAWAY*****