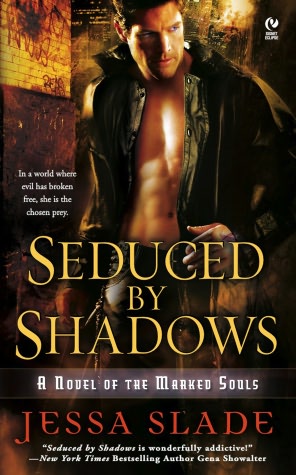 *****
They fell backward onto the already-rumpled bed, mouths locked.
When he lifted himself above her, he was breathing hard. "Why did you invite me in? You aren't afraid to be alone."
She stared up at him. "Not afraid, no. I wanted life. I want you."
He stilled. "The two of them aren't necessarily the same."
She slipped her hand between both their bodies to press against the base of his erection. "You're not dead."
He groaned, half laughter, half desire. "Not yet."
"I won't hurt you." She stroked her fingers down the length of him.
"Make me feel…"
"What?"
"Just make me feel."
She adjusted her hand, cradling the heft of him in her palm, burnishing her thumb over the hot flesh.
"Good?"
"Yes."
"Alive?"
"Very." His breath caught as her grip tightened sensuously. Then he caught her hands. "Too much."
"No such thing as too alive."
"Too good, then." He stretched her arms over her head.
In retaliation, she locked her heels behind his back. Her thighs slicked wet over his flanks. His cock pointed at her, shining with his aura like a burning brand.
He put a hand under the curve of her behind and pulled her up hard against him. She gasped at the friction of him sliding into the shallow space between her legs, grazing the pulsing nub at her core. He held her there, his heat radiating through her, silver whorls spiraling over his skin.
She writhed against him, driving herself toward the brand that would mark her yet again. She had other marks. Accident victim. Demon possessed. This, Archer's brand, she chose for herself.
a Rafflecopter giveaway