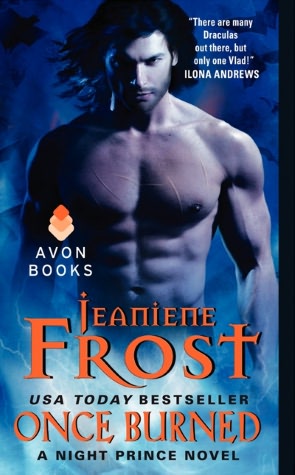 She's a mortal cursed with dark power…
After a tragic accident scarred her body and destroyed her dreams, Leila never imagined that the worst was still to come: a terrifying ability to channel electricity and to see a person's darkest secrets through a single touch. Leila is doomed to a life of solitude…until creatures of the night kidnap her, forcing her to reach out with a telepathic distress call to the world's most infamous vampire…
He's the Prince of Night…
Vlad Tepesh inspired the greatest vampire legend of all—but whatever you do, don't call him Dracula. Vlad's ability to control fire makes him one of the most feared vampires in existence, but his enemies have found a new weapon against him—a beautiful mortal with powers to match his own. When Vlad and Leila meet, however, passion ignites, threatening to consume them. It will take everything they have to stop an enemy intent on bringing them down in flames.
*****
Once Burned is narrated by the female lead, Leila. She's hiding among the "freaks" in a traveling circus because she tends to electrocute people when she touches them. Oh, she also happens to learn their biggest sin, and sees events in their past, present, and future just from touching an object they've used. When her ability becomes public, she becomes a pawn in a game of revenge between two vampires and is kidnapped by one to find the other. She knows her life is in danger from the vampires who kidnapped her, so in a desperate situation, she aligns herself with Vlad, our hero, by letting him in on the plan to use her to find him.
When Vlad, aka Dracula, (yes THAT Dracula), and Leila meet, sparks fly. Like, real sparks. Vlad can control fire; Leila conducts electricity. Shortly thereafter this is where the story lost me. Vlad and Leila fall for each other immediately. I know that isn't necessarily uncommon in paranormal romance, but it didn't ring true for me. Leila's powers came about after she accidentally touched a downed power line as a teenager. She feels responsible for her mother's death. She's been isolated and lonely and literally untouchable since the accident. So it felt like she fell for Vlad simply because he could touch her without any adverse effects (vampires can stand the currents she puts out). She puts her trust in and gives her virginity to someone who is essentially the lesser of two evils in her situation. All she knows about him at this point is his greatest sin (which I won't give away, but it makes her think that maybe he isn't such a brutal monster) and the history of Vlad the Impaler. I have no idea what it was about Leila that made Vlad fall for her.
I was really looking forward to getting to know more about Vlad in this book. He's been a part of Frost's Night Huntress series and is a really great, fun character. That didn't transfer over to this book for me. I'm hoping we see more of the charming and witty Vlad in the second book. (Once Burned is a spin-off from the Night Huntress series. It can stand alone, but I highly suggest reading the Huntress series anyhow. Not because you need background for this book, but simply because they're some of my favorite books.)
The last third of the book picks up the pace and interest once Vlad and Leila start working together to find the vampire intent on killing Vlad. I do enjoy the overall story that brings Vlad and Leila together, I'm just not sold on the romance part. There's a lot of great action in the book and a new set of interesting minor players. Enough that I'll read the sequel.
Hot quote: I increased the pace and pressure, and those harsh moans became shorter while he swelled in my mouth. His hips rocked against me, that firm grip on my head exciting because it was reminiscent of how tightly I clutched him when he went down on me. Saliva escaped to coat the parts I couldn't fit as I moved even faster, my thighs clenching as the throbbing between my legs became unbearably intense.
Heat Factor: Burning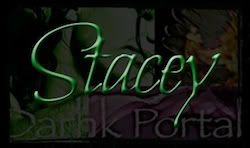 a Rafflecopter giveaway