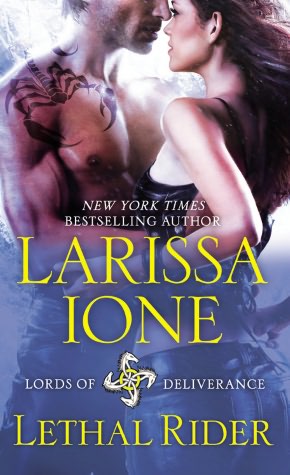 Anyone who knows me knows my weakness for a man covered in tattoos. Just something about ink on top of well defined muscles that makes me weak in the knees. So with that being said, it should come as no surprise that Thanatos from Larissa Ione's Lords of Deliverance series is my choice for Things I'd Liked to Bump in the Night.
Thanatos is the most lethal of the horsemen, immortals forced to carry the weight of the apocalypse on their shoulders as a form of punishment. His skin is covered with tattoos which depict all the death and destruction he has seen through the course of his existence once learning the truth of his parentage, much of which by his own hand. He is Death. Believing that the fate of the known world rested on his virginity, he swears a vow of celibacy. Talk about taking one for the team. Consumed by vengeance when what he guarded so vehemently is stolen from him, Thanatos seeks out the very female and kidnaps her, threatening to use her to sate the desires he had denied himself all his life. However, little by little the reader learns that the man inside of the monster is far more loving and protective than any female could hope to find in a mate. Oh boy!
Excerpts from Lethal Rider by Larissa Ione:
"I should be taking better care of you. If you're hungry, I'll feed you. If you're tired, I'll sit on the bed and watch you sleep. And I won't hold you to the eight month's thing." He pressed his forehead against the back of her neck, and she moaned at the intimacy of it. "I wasn't lying when I said you awakened something sexual in me, something that frankly scares the shit out of me. But that's my problem, not yours. I won't make you do anything you don't want to do."
"What…" she swallowed. "What if I want to?"
Behind her he went taut, and she kicked herself for asking him that. They were in a fragile place right now and be all for revenge sex, but maybe he was ready for intimacy that wasn't rooted in anger.
His hand slid down her arm to her hips. "I'll give you that, too."
She bit back a groan as he eased between her thighs. "I don't want to be a pity fuck."
"This is so not pity." He made slow lazy circles on the skin of her inner thighs, his thumb brushing where she wanted his touch. "And it won't be a fuck if you don't want it."
*****
Her hands came up to fist his shirt and hold him against her, but there was no need for that. He wasn't going anywhere.
He also wasn't going to take this slow. The savage desire to reclaim what the group of Aegis males had taken from him was an instinct he wasn't going to fight.
He broke off the kiss to nip and suck her throat, leaving tiny marks no one would miss. Her softly whispered "Yes" told him she liked it, and when he inhaled, the sharp scent of her arousal confirmed it.
Her skin tasted of the salty ocean breeze, and of battle, and he growled at the reminder of what she'd gone through.
"It's okay," she murmured. "Just stay with me."
He opened his mouth over the hollow of her throat, tasting more of the ocean, but it wasn't enough. He needed to taste her everywhere. Places he hadn't yet been. Places no one else would ever be. She was his, and he was going to claim her.
In a fevered rush, he dropped to her knees and found himself eye level with her beautiful belly. He smirked as he lifted the maternity blouse and kissed her there, on the taut skin beneath her navel.
"Um… Thanatos…"
"Shh." He hooked his thumbs under the elastic waistband of her pants and underwear and pulled them down. "Brace yourself on the desk."
"But–"
"I need to see you. Taste you." And because of how low she was carrying their son, he needed her at a slight angle to have better access to what he wanted.
"I've never done this…"
"I haven't either." The admission might have embarrassed him a few days ago, but now… now it made him proud.
After a second of hesitation, she leaned back, bracing her hands behind her on the desk. Yes. He kissed his way down, worshipping every inch he touched, and when he reached her inner thigh, she groaned and widened her stance.
He nearly came at the sight of her female flesh, glistening and ready for him. Anticipation sang through him as he leaned in and licked the crease at her thigh. She stopped breathing, and when he dragged his tongue along the crease on the other leg, she sucked air.
"Are you ready?" he murmured against her creamy skin. Her answer was to thrust one hand into his hair and pull him closer.
He didn't waist another second. For the first time in his life, he put his mouth to a female's center.
For the first time in his life, he was glad he'd had to wait.
Gently, he used his thumbs to part her sweet flesh, and then he settled his mouth over her core. He started tentatively, exploring, using his tongue to probe and test what made her squirm and gasp most. As his need ramped up, he grew more confident, his licks more urgent and desperate.
She tasted like the sun and ocean combined, and he decided he wanted to do this as often as she'd let him. And from the way she was arching against his mouth he thought she'd let him have his way as much as he'd like.
And he liked.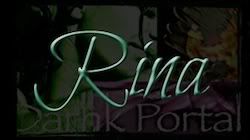 ****GIVEAWAY DETAILS****
Followers will get their chance to vote on which hero they'd choose out of our picks and earn a chance to win an ebook version of one of the five books featured. Voting starts on Wednesday, October 24 after the fifth hero is revealed. Enjoy!
a Rafflecopter giveaway