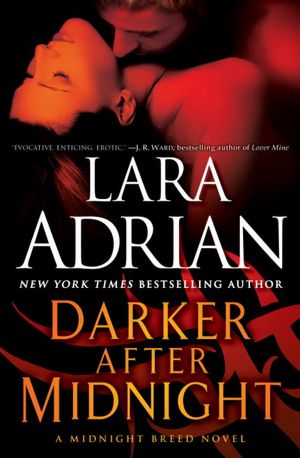 Sterling "Harvard" Chase. Uptight, Agency suit turned badass member of the Order who has demons tearing at him from the inside out. I love a tortured hero, because it shows they feel things deeply. Chase takes that hard, chiseled body from a suit into fatigues and combat boots. (Excuse me while I wipe the drool from my chin.) He's honorable down to his toes. Even when he's struggling with bloodlust and royally messing up, he acts in the best interests of those he's loyal to. There's something about such single-minded loyalty that makes me weak in the knees. Of course the pulsing glyphs on a warrior's body and steel-blue eyes don't hurt either…
Excerpt from Darker After Midnight by Lara Adrian:
She loved the way he fucked her. Loved how strong and powerful he was, something unearthly and dark. She loved that he coaxed the same from her. And she loved how every touch and kiss and fevered thrust claimed her as his. She was his; her heart knew it as surely as did her molten blood and body. A hiss escaped her as he plunged deep into her core, filling her, touching a place that belonged only to him. She threw her head back on the pillows, lips peeled back from her teeth as she gave a ragged shout of release. "Yes. Oh, fuck, Chase…harder. Don't stop."
With a roar boiling from between his gritted teeth, he grabbed her ass in his hands and hauled her to him, lifting her hips up to meet the crashing intensity of his thrusts. He pounded her with unbridled fury. His cock stretched her tight around him, as hard as steel inside her, relentless, dominating.
A snarl tore loose from him as he pumped harder, deeper, their amber gazes locked. His glyphs were wild and alive with dark colors, all the shades of desire and need. Hues that rode her own bare skin as he pushed her toward the crest of another orgasm. He bore down on her with tight, fevered strokes, his fangs huge and gleaming under the harsh twist of his beautiful mouth.
"Tavia," he rasped, shuddering against her with the force of his release. The hot rush of his seed flooded her, and she came with him, panting and mewling as her body detonated around him, her senses shattering into a million glittering pieces.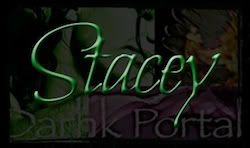 ****GIVEAWAY DETAILS****
Followers will get their chance to vote on which hero they'd choose out of our picks and earn a chance to win an ebook version of one of the five books featured. Voting starts on Wednesday, October 24 after the fifth hero is revealed. Enjoy!